According to the American Veterinary Dental Society, more than 80% of dogs suffer from periodontal diseases by the age of two. Help your dog ward off bad breath, gum disease, multiple infections, and heart disease by consistently brushing your dog's teeth, always furnishing fresh and clean water, while feeding your best friend a nutritious diet.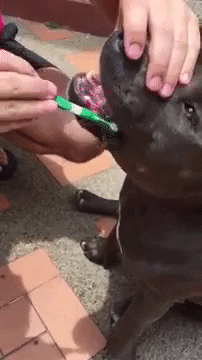 Triple Brush is the toothbrush specially designed to brush your dog's teeth, it has 3 sided bristles that cover more area so you can perform the brushing in a shorter time. Triple Brush also comes with edible, pet-safe toothpaste for your dogs too! The silicone finger brush allows you to brush those hard-to-reach corners, your dog will feel better with fresh, clean chompers – and you'll feel great knowing you give them the very best.
FEATURES:
See cleaner teeth in 30 days or less, with daily use as directed. Results may vary.

Triple Brush is designed to gently speed up the removal of plaque and tartar and massage gum tissue, effectively cleaning all areas of the mouth

Silicone finger brush is designed to gently brush the most sensitive teeth and gums.

Provides a complete dental care solution for clean teeth and a healthy mouth, defending against plaque and tartar buildup.
PACKAGE INCLUDES:
1 x Triple Brush

1 x Edible Toothpaste

1 x Silicone Finger Brush